For PTA Groups – Predator Identification Training Program™
The newly launched Predator Identification Training™ program is a free educational presentation showing parents and teachers the predatory grooming process that precedes child sexual abuse in the schools. Our trained volunteers will come to your PTA meeting, resource fair, or conference to present the 30-minute program in person.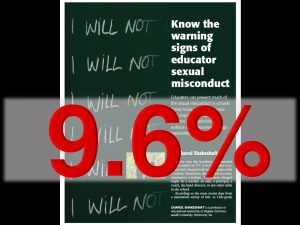 Educator sexual misconduct affects everyone, from the child to the parents to 99.9% of hardworking teachers to the school whose reputation is tarnished and may end up financially responsible for the harm caused to the child. It's a problem that many times can be prevented.
Nearly one in ten students will graduate high school as a victim of educator sexual misconduct.
The Solution for Your School
Predators don't just show up and sexually abuse a child. It's a long process that starts with the "grooming" of a child by a person of authority, such as a teacher, coach, bus driver or principal. Predators engage in behavior, which is easily recognizable. With proper training, parents and administrators can stop the predator before a child is harmed. Reach out to us and schedule your free 30-minute sexual abuse prevention program for parents.
Let's Work Together
We are looking for parent-teacher groups to help us with this 30-minute training program. It is recommend that you allocate an hour to include questions and answers from attendees. A lunch hour or early evening presentation is recommended to maximize attendance. At this point, our program is not appropriate for children.
Contact: Andrea Hapin or Ed Vasquez at 408-915-5400.