Ellis Martin's "Maximilian" Takes On Child Predator Stereotypes
Ellis Martin's "Maximilian" Takes On Child Predator Stereotypes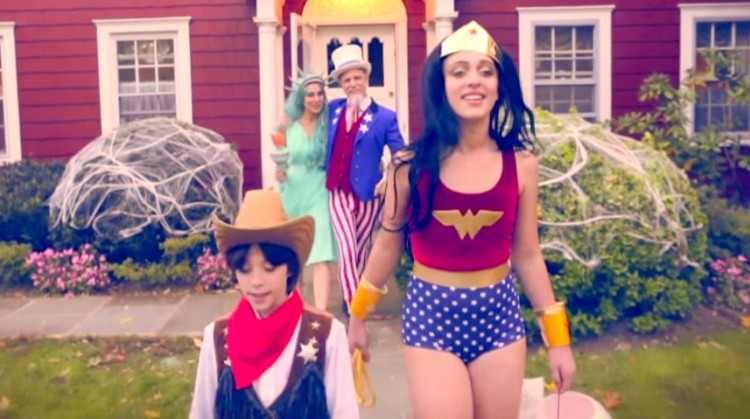 In honor of April being Child Abuse Prevention Month, pop artist Ellis Martin dropped a video for his newest single "Maximilian," off the recently released "Pornotopia" album.
Born in Chicago, Ellis Martin's pop style is equally influenced by notes of Motown and soul. More than just self expression, Ellis Martin views music as a medium to deliver a message: "a wake up call," as stated in his bio.
"Maximilian" is definitely catchy.
The short film, directed by Evan Polivy, shows Ellis dancing and grooving to his own tune as a dark tale unravels behind him: a suburban, "middle-class" businessman hides a terrifying secret from his family.
"The Story of Maximilian Van Der Pratt" opens with a comically-white family standing in front of their large home on a manicured lawn.
The film quickly cuts to the family dressed up for trick or treating. Dad, Maximilian, is dressed as Uncle Sam, mom as Lady Liberty, their son as a cowboy, and their teenage daughter in a very-revealing Wonder Woman costume.
After the family laughs and frolics together, they're eventually shown another day leaving home – while Dad stays at home. At this point it's revealed there's an ominous red button hidden behind one of the family's photographs. Pressing it leads to a hidden lair beneath the home.
What's inside the basement lair isn't shown, it's meant to give you chills.
For an extra-surreal-yet-creepy feel, the scenes are cut with a young, sparkly-clad cheer group dancing suggestively with moves that may or may not be accurate for their age group, and the artist, Ellis, dancing himself.
Eventually, Mom inadvertently discovers the button and, well, we'll let you watch the rest…
Did it make you think?
While not a direct quote from Ellis Martin, comments about the video from the artist, himself, on his Facebook page infer that the intended message is this: that there is no profile for a sex abuser – that while we're warning our children about "stranger danger," the real predators might be just next door.
But does the message come through? Let us know your thoughts in the comments.