Help Change Public Policy
Keep Kids Safe from Sex Abuse is a not-for-profit organization that is dedicated to eradicating childhood sexual abuse in America. Through community awareness and legislative efforts, we aim to protect the victims of childhood sexual abuse, while raising awareness to weaknesses which enable predators and those organizations that hide them.
Our mission is to stop childhood sexual abuse, support the rights of sex abuse victims and their families, and prevent the institutional cover-up of suspected abusers by creating major social changes in the attitude and behavior of Americans towards child molestation.
It is estimated that there are 80,000 new reports of childhood sexual abuse every year in the United States.
Sadly, this is just a small representation of the true number of abused children. Thousands of child sex abuse cases go unreported every year due to fear, anxiety, or embarrassment.
Many Americans Shy Away
From this issue, ignoring the ways every of a community can contribute to a culture where children are kept safe and made comfortable to speak up. Safety programs that promote outdated ideas such as "Stranger Danger" keep families from being aware of those closest to their children.
It's our hope to create a community of education and awareness.
At Keep Kids Safe, we aim to can build momentum toward changing the laws that protect predators and the laws that limit the time frame in which victims can seek justice.
When communities care enough speak up, politicians will no longer be able to stop legislation that benefits victims of childhood sexual abuse.
Statutes of Limitations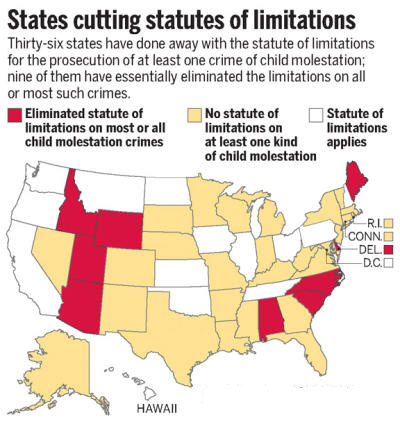 Statutes of limitations create deadlines on when victims can bring civil lawsuits or prosecutors can press charges. These time limits favor predators and the institutions that enable their behavior by limiting the number of criminal prosecutions and civil lawsuits.
As adults, it is our job to hold elected officials accountable for their actions. We must demand that schools, youth groups and organizations require more specialized training, extensive background checks, and safety protocols.
A child's admission of inappropriate touching, sexual contact, or abuse should not make us as adults uncomfortable to take action. Through education and awareness, we are confident that childhood sexual abuse can be stopped and child molesters brought to justice before they can continue to harm unsuspecting children.
At Keep Kids Safe from Sex Abuse, we believe that learning about childhood sexual abuse, talking about childhood sexual abuse, and getting involved are the only ways to change the laws that will stop childhood sexual abuse.